This is English version of my page.
---
How it all started.
I was driving Ladas which gave me a lot of troubles. In fact they insatiably swallowed most of the money I earned. I repaired them by myself because I knew how to do it and taking them to a mechanic would have promptly made me a bankrupt. However every time I solved a problem, another one occurred. Every time it happened it was definitely not in the right place and time. They just seemed to make fun of me.
Once I got fed up with it I decided to sell that rubbish and to try another car. I bought Volvo 244 1978 almost for free and it was certainly not a bargain. Can you imagine its condition? Me too. The body was rusty all over, both of the track control arms were broken in two pieces and connected with bolts, the remains of the silencer were helplessly hanging under the bottom, one of the rear brake cylinders did not exist, another did not work, water from the engine was leaking at two places, alternator was dead.
Reconstruction.
Buying all those spare parts would have been a very stupid idea so I bought 242dl intending to use it for parts. So I did. The first thing which shocked me was that I could simply unscrew every bolt or screw. Unscrewing rusty bolts was always a problem. The repairing of Volvo was just as a pleasure for me compared to what I used to do with other cars. This is the most convenient car I had ever repaired. So I fell in love with Volvo. Soon I brought the car to a very good condition and sold it to buy this beauty: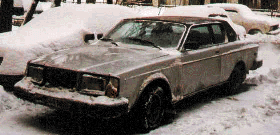 This is Volvo 262C 1977. There were only 6622 of them made and just 187 for Sweden. This is one of those 187, the first owner of this car was a Swedish diplomat in Russia.
- B-27 engine
- BW-55 Gearbox
- Air conditioner
- Black leather interior
- Power steering
- Electric windows
Selling this car was the biggest mistake of my life, but I was tempted by the amount of money I had been offered.
---
This is me, repairing my 245 early 1978.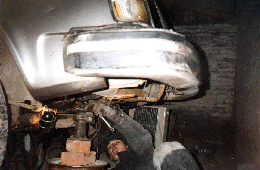 The previous owner was selling it for spare parts, he thought that the engine was completely destroyed. So I got a bargain. If fact the problem was just in the trey of the engine, which was bended so the piston-rod hit it and made the noise which scared the owner.
---
. This is the car I loved the most.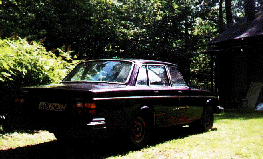 I think this car loved me as much as I loved her. I drove it the longest of all, but it never gave me a trouble. I bought it with broken engine and crushed at the front. 244GL 1979. The original colour was silver.
Performance:
- BW-55 Automatic Gearbox
- B-19 Engine
- Power steering
- Sunroof
- Electric windows
I reestablished it, painted into this nice colour, installed equipment for using gas insted of petrol, and drove it for 7 month (55000km), untill it was stolen. It was a robbery. I even know the names and adresses of the robbers, but they simply bribed the police and got out of it. I don't know what happened with the car next but I always think of her.
---
This was my last Volvo in Russia.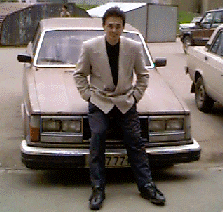 When I got it only two of four cylinders were working, the clutch did not clutch at all. It was simple 244GL without any luxuries in it.
- B-21 Engine
- M-46 Manual gearbox
I repaired the engine, installed BW-55 automatic gearbox, electric windows, 240 dashboard, power steering. I sold it just before I left Russia.
---
I had had six other volvos, but I did not take pictures of them. Volvos were my business, I also sold used spare parts. The profit was not bad for a student.
---
E-mail me, I'll be happy to answer, if you are interested in any details.